This summer quite possibly might have been one of our busiest on record. We have traveled multiple times each month, which basically means I spent most of my time packing & unpacking (or refusing to unpack since I'm just gonna have to pack that shit again in a few days so I struggle through working out of suitcases in every room of the house & bitching because of it) and doing laundry. Yep, I'm back, bitchezzzz. Run-on sentences and all. I am going to try to make a conscious effort to post more often. I know, I know... I've said this before. And I think I've figured out why I haven't been able to deliver on this promise.
Perfectionism.
I'm thinking I should do a Thankful Thursday post every week because God knows I have SO much to be thankful for, and I would far rather focus on that than anything else.
First off, I was elated to see that Lauren P. from Cali sent me five absolutely friggin' awesome g-tube pads for Claire. Skulls + pink bows + sparkle = badass perfection! Claire's been rockin' them in honor of her homegirl, Kendall (Lauren's daughter who also has a g-tube) & her twin sister, Khloe. Much love & thanks from me and my "Mimi!"
The same day I received the g-tube pads, an anonymous reader sent me following handwritten note: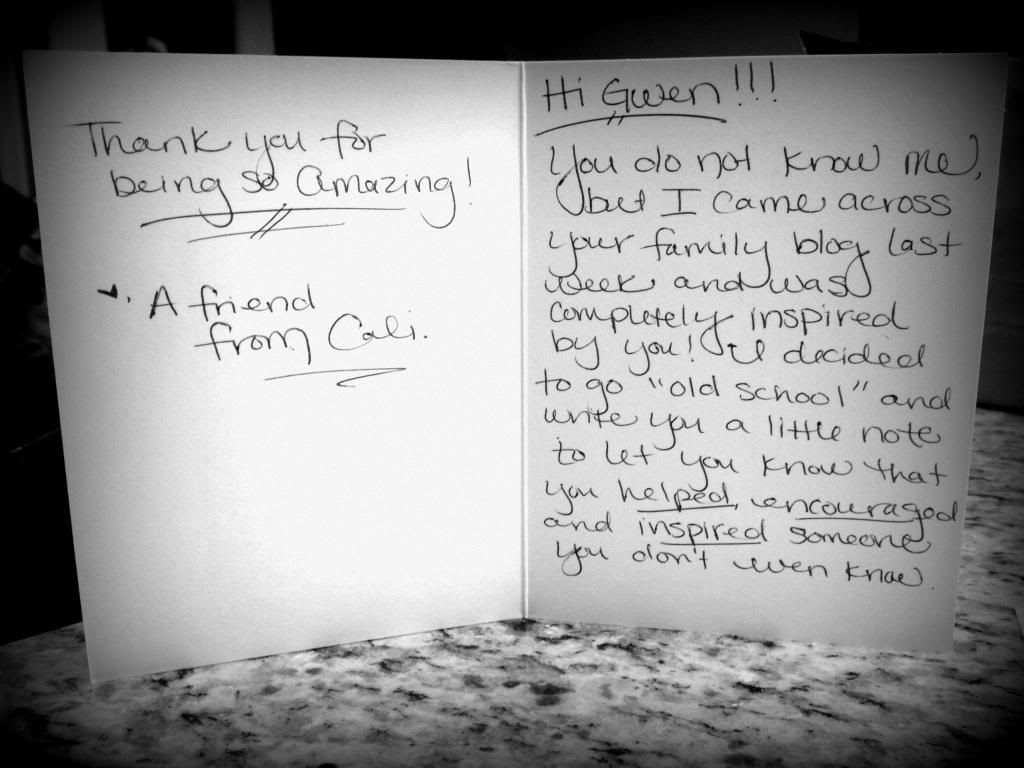 Made. My. Day.
THANK YOU for your kindness. It really means SO MUCH.
I am obsessed with this picture of Claire... she looks SO twelve & SOOO beautiful.
SUPER embarrassed she needs a chin strap... ha!
Julie, you have outdone yourself, and we SO appreciate you taking the time to make these precious gifts for Claire & Lola. THANK YOU. The girlies send you big, wet, slobbery kisses!!!
I am so very grateful for the love & support I get from everyone who follows our family and this blog. I cannot thank you enough for the kind words, thoughtful messages, and all the positive mojo you send our way on a daily basis.
xo